They came. They laughed. They grooved.
On Sunday, April 21, the Monkey Bunch electrified the Great Hall sildenafil at the Grove's second annual Earth Day Groove in an afternoon family concert and dance party.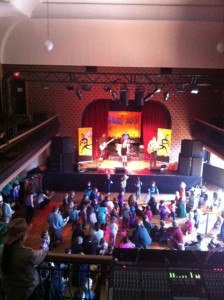 The Monkey Bunch – dubbed the Rolling Stones of the pre-school set — is a Juno-nominated music group for people who love music and want their kids to love it too. Like the Grove Community School, the band imparts a strong social message in its concerts, and tries to empower small people to make positive changes in their world.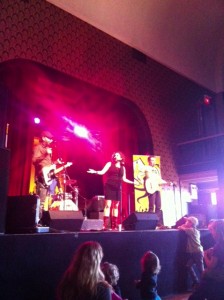 Grove parent Michelle Polak revved up the crowd with her hilarious introduction to the Monkey Bunch. By the time the band got to the stage, the crowd was already going bananas!
Between jokes about "Poopy Diapers" (certain audience members creating them as she spoke) and sleep deprivation, this high-energy concert had kids dancing, rushing the stage, and yelling for their favourite tunes. Shoshana, Maury and the bunch raised the roof, leading into a lively DJ dance party for the whole family.
All the proceeds from this Bullfrog-powered event went to support the curriculum at The Grove Community School, and its unique approach to education through the lens of arts justice, environmentalism, and community activism. Thanks so much to Nav Sangha for generously donating the concert venue, the Great Hall, for our Earth Day Groove.
The Grove Community School fundraising committee (Wanda Ely, Nancy Tong, Lisa Choi, and Khadijah Carland) is grateful to the Monkey Bunch, Michelle Polak, West End Food Coop, Front Door Organics, the school's environment committee and all the people who came out on April 21 for helping to make this day such a success!